Find and Compare Hospitals
People come to 100 SafeCare Hospitals to connect with great hospitals. This site is a consumer-oriented service that can help health consumers make informed decisions about their healthcare.
Our Simple Mission
Empowering patients, caregivers, and providers with reliable healthcare information.
Our Compelling Vision
A relentless commitment to safe healthcare through reliable information.
Our Enduring Values
We value honesty, trust, and reliability in all our work.
100 SafeCare Hospitals® - Since 2013
The Truth about U.S.A. Healthcare Performance
The Commonwealth Fund published in its 2022 "Mirror, Mirror" article that USA healthcare ranked dead last when compared to 11 other developed nations. The USA ranked last place in many key health measures including: medical cost, access to care, medical errors, preventable hospital admissions, and maternal mortality.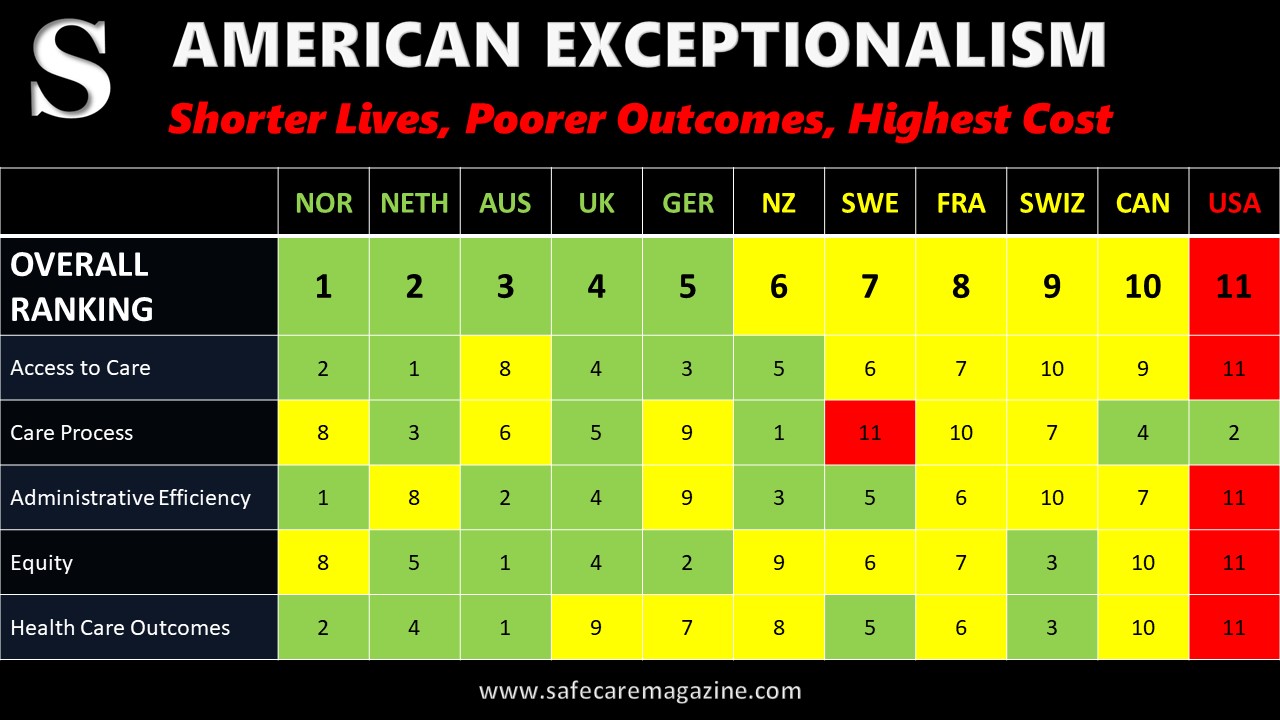 Poor Hospital Performance
Mediocre performance of USA healthcare stems from (at best) mediocre performance of USA hospitals. Despite spending far more on healthcare than other high-income nations, the USA scored poorly on many key hospital measures including: preventable hospital admissions, postoperative complications, and maternal mortality. Each year, millions of patients are affected from shabby care, bad treatments, and poor services from healthcare providers. Poor hospital performance is intricately tied to:
§ Outdated hospital accreditation methods;
§ Unpoliced GPO anticompetitive business practices;
§ Lack of hospital systems executive accountability;
§ Ineffective CMS pay-for-performance programs;
§ Overabundance of defensive medicine.
About Our Members
Our members are just like you – down-to-heart folks seeking to find dependable hospitals that deliver high-quality care and connect others with great hospitals by sharing actual first-hand care experiences with hospitals. There is strength in numbers.
Hospital of the Year
Hospital of the Year is an annual issue of The SafeCare Group that recognizes the one hospital that:
1. Consistently outperformed all other US hospitals for all four quarters of the year in the holistic, evidence-based metrics of 100safecarehospitals.com.
2. Demonstrated superior achievements in the balanced hospital scorecard of hospital charges, timely care, medical errors, unplanned readmissions, and hospital-acquired infections.



SafeCare Hospital of the Year